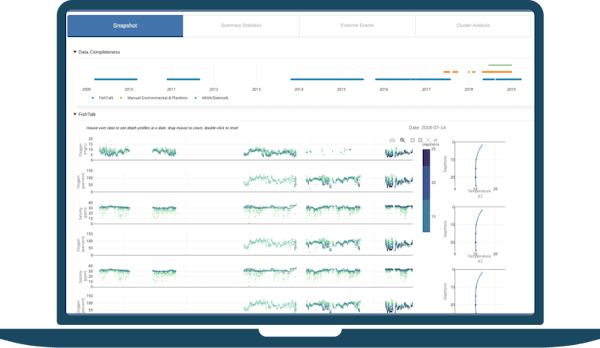 Connected to what matters
Integrate in-pen sensors with external data sources for the most comprehensive view of your local ocean
Identify extreme events and analyze trends with embedded data workshop tools
Monitor the status of all your farms in one dashboard
Set threshold alarms to notify staff of hazardous conditions
View forecasts for your local waters
Connect recurring ocean conditions with mortality events
One Farm, One Fish Welfare Score
Farmers are responsible for monitoring so many risks. Any one of them can kill fish. But most of the time, mortality comes from cumulative stress across a fish's life. So, farmers kept telling Scoot that most days' management challenge boils down to one core question: how are my fish doing? The Scoot Integrated Welfare Index (SIWI) answers that question. SIWI knits together risks like plankton, oxygen, mortality, lice, and appetite to provide your whole team a single point of reference for fish welfare.
Ocean Forecasts by Ocean Scientists
SeaState gives farmers the warnings they need to improve fish welfare and survivability in the face of changing ocean conditions. SeaState's forecasts come from unifying sensor data with physics-based ocean and weather models, providing farms a comprehensive view of subsurface threats. Understanding when and where dangerous conditions may occur can be the difference between a catastrophic and a minor mortality event. Scoot Science is running forecasts for innovative salmon farmers across the globe.
Single Source of Ocean Truth
SeaState is a hardware agnostic data platform for farms, large and small, who know that they can make better operational decisions with the data they have...if only they can bring all that data together. Whether it's streamlining lice and plankton reporting or auditing historic loss events, SeaState helps farmers focus on the things they do best.