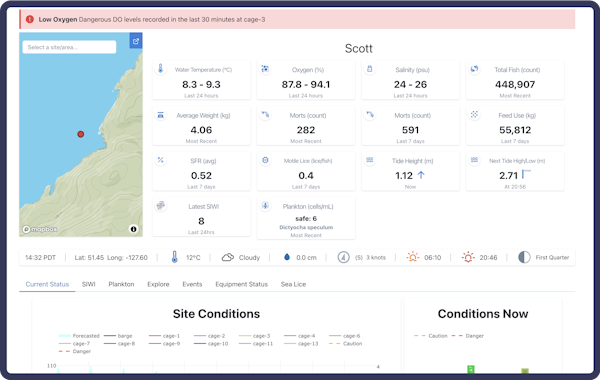 Harness the Power in Your Data
Make more informed decisions with in-pen sensor data alongside local ocean data.
Access and analyze historic events with embedded workshop tools.
Share data with other platforms via an industry standard API.
Notify staff of hazardous ocean conditions with real time SMS or email alerts.
Anticipate and prepare for threats on the horizon with site specific ocean forecasts.
Identify important trends in fish health with standard daily stress scores across 10 indicators.
Stop Struggling with Siloed Data
SeaState integrates your third party sensor, fish inventory, and operational data streams into a single web-based platform so that your teams can stop struggling with siloed data. Real time and historical farm data sits alongside neighboring farms for the most comprehensive view of your operations. Unlock data-driven decision making and start analyzing trends, assessing the effectiveness of mitigation, and sharing insights with nearby farms.
Fish Health, Quantified
With SeaState's fish stress analytics, you can quickly track changes in the environmental and operational stressors impacting fish health, and understand and compare standardized performance across sites and over time. A single point of reference for fish welfare enables teams to make more informed decisions around resource distribution and treatment timing to minimize stress and loss in growth. 
Ocean Forecasts by Ocean Scientists
SeaState gives you the warning you need to make informed operational decisions in the face of changing ocean conditions. SeaState's forecasts come from unifying sensor data with physics-based ocean and weather models, giving farm managers a comprehensive view of subsurface threats. Understanding when and where dangerous conditions may occur can be the difference between a catastrophic and a minor mortality event.